I set this view because it reminded me of Hopper's "Early Sunday Morning". Also, my vantage point was covered by nine foot deep steel awning to protect me from the rain. I would only work on this one when it rained.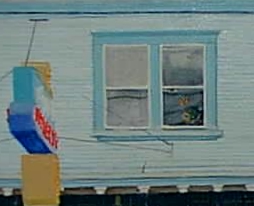 There is the face of a young woman in the left hand window by the sign. She sat there only for a few moments, but fortunate for the painting, she provided a lovely, lonely sentiment for a rainy day.
      Hopper would have approved, I think.
---